Merry Christmas!
Christmas is not about the gifts
lights
foods

snow

or santa
It's all about the birth of our Savior,
Jesus Christ
†
MERRY CHRISTMAS EVERYONE

FELIZ NAVIDAD

สวัสดีปีใหม่

성탄절 행복해요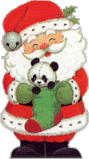 Santa, you know what I want for this Christmas, right?
Tonight is Christmas Eve! Time goes so fast isn't it?
Thank God for my report card and as the present, I went to Bali
with mom&grandma for this holiday hohoho..

Padang-padang Beach, l

ocation of Eat Pray Love
Gunung Batur, Happy Mother's Day, Mom

Wish you have a great holiday, chingu! Caooo

StephanieRawi